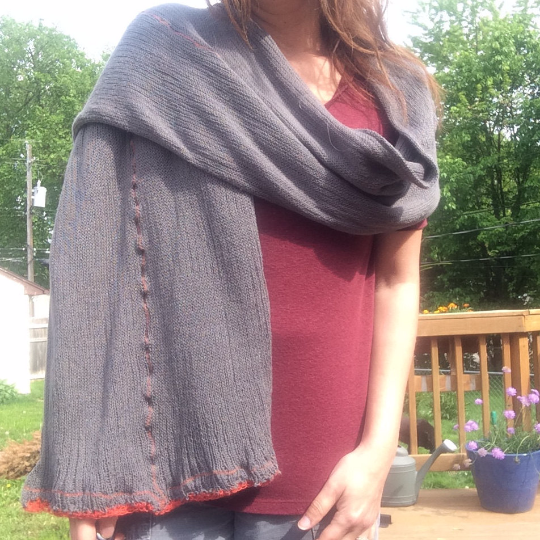 Summer Lightweight Shawl or Scarf
SKU SH0004
Product Details
Summer Lightweight Shawl or Scarf / Cotton in Gray with Salmon Pink Detail


This shawl is made with very lightweight cotton yarn using an antique circular sock knitting machine from the early 1900's. There are two double-thickness grey knit panels sewn together using salmon pink colored thread which is also used to finish each end.
The cotton is soft with a slight stretch to it that makes the shawl drape elegantly without bunching up. Can be worn as a shawl but also can be wrapped around the neck as a scarf. Perfect for those cool summer evenings out on the town or next to the campfire.

Approximate Measurements:
13" wide
80" long

Materials & Care
75% Merino Superwash Wool
25% Nylon
Hand wash cool, lay flat to dry.

We can make custom shawls with your color and size requests, just message us the details and we'd love to make one for you.

Proudly handmade in Minneapolis, Minnesota.
Save this product for later