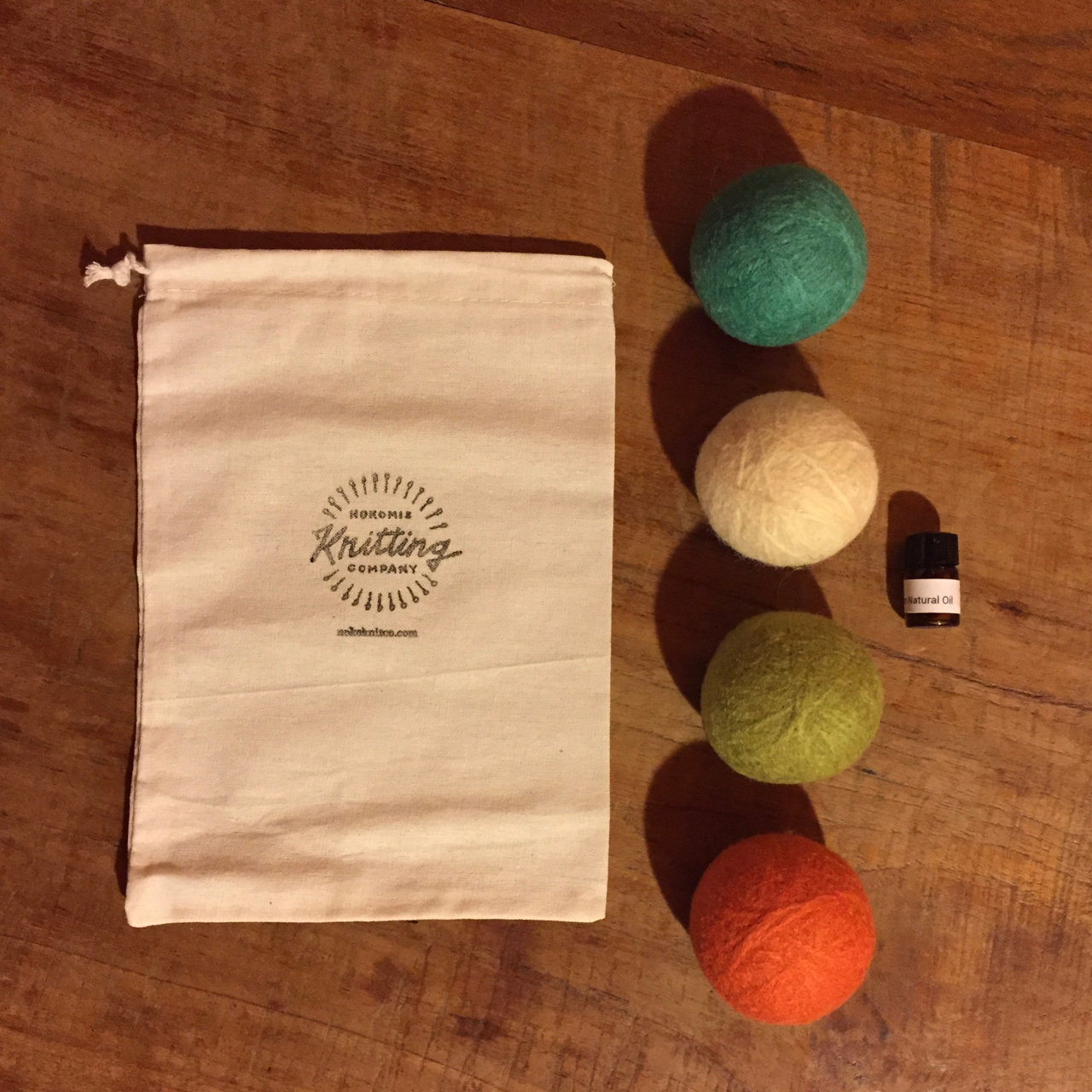 Dryer Balls Kit - Set of 4 with Essential Oils - Bag
SKU 00091
Product Details
Dryer Balls Kit - Set of 4 with Essential Oils - Teacher Gift, Shower Gift or Hostess Gift, House Warming Gift

These are the same dryer balls and essential oil kit as our kit in the jar but this version is a little lighter for shipping and the reusable cotton bag holds different stuff than the glass jar. We just wanted you to have choices.
The perfect hostess gift or for the mom-to-be who wants to avoid all those nasty chemicals. Eco-friendly 100% wool dryer balls are used in place of dryer sheets.

Benefits Include:
Eco-friendly, reduces static, natural fabric softener, helps eliminate wrinkles, reduces drying time, and saves energy. Can be used for 500+ loads.

How They Work:
During the drying cycle the dryer balls wick moisture away from clothing and retain it until clothing is dry then they slowly release that moisture to prevent static in the dryer and reduce wrinkling.

Instructions:
Use in place of regular dryer balls.
- Place dryer balls in dryer with wet laundry and dry as usual.
- Remove balls from load and return to glass jar until the next load.

Each kit includes:
- Four 2" 100% wool dryer balls (.87 oz wool each) - colors may vary from photos
- 2 ml vial of essential oils (Your choice of Eucalyptus, Clean Cotton, Linen, Lemon, or Lavender)
- Cotton drawstring bag. Can be used to store dryer balls between loads or reused to hold loose buttons, small treasures, or your latest knitting project!

We hand make each ball then test them for durability and color fastness to ensure color will not affect clothing.
Proudly hand wound in Minneapolis, MN.
Save this product for later