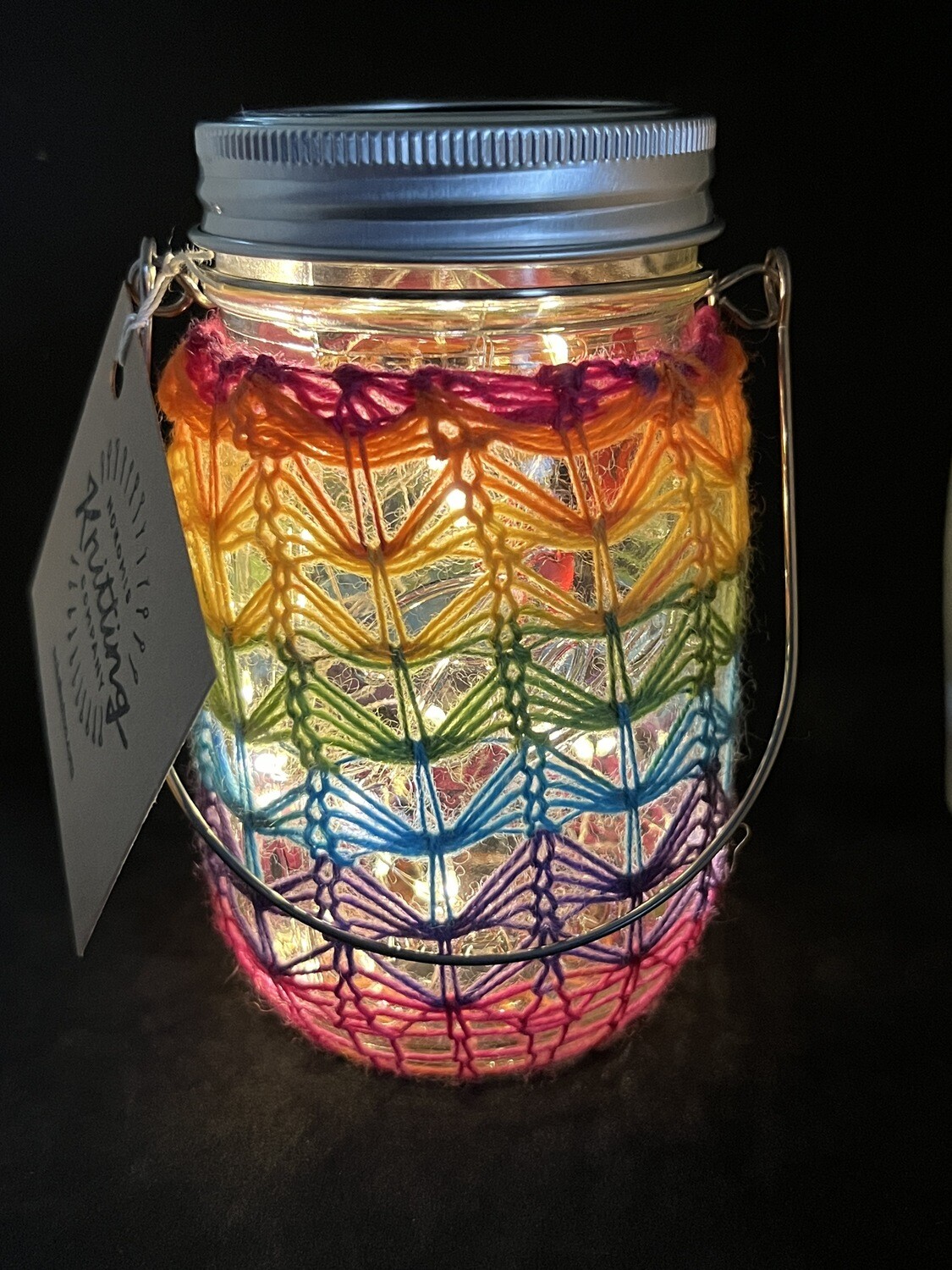 Solar Rechargeable Jar Lantern w Fairy Lights - Bright Rainbow
42336
Product Details
Perfect for your porch, deck, windowsill, or under your patio umbrella on warm summer nights. Add some color and ambiance with this bright rainbow mason jar lantern with solar rechargeable LED lights.
The built-in light sensor ensure that the lights turn on in the dark and automatically turn off when the surroundings are bright.
Recharging:
The soft LED lights are powered by a solar rechargeable AAA battery. Lights must be placed in sun to charge for 5-7 hours but can then illuminate for 10-12 hours (indoor light cannot charge the battery).

Materials:
Textured, decorative wool+nylon yarn cover, glass jar with solar panel top and string micro LED lights + butterfly clip on the inside.

Care & Weather:
- Keep the surface of the solar panel clean to avoid affecting charging.
- These lights are water resistant but should not be placed directly in water nor should they be left in weather with continuous precipitation.
- Lights should be brought indoors during winter months to preserve battery life.
- To use during lighter hours, cover the solar panel with a solid item, such as a coaster or heavy cardboard to "fool" the light to turn on.
Hanging loop included but light can also site on any flat surface.
Dimensions:
Standard 16oz canning jar.
Sitting Height - 5.25"
Diameter - 3.00"
Hanging Height - 8.5"

Buy more and save.
1 = $22
2 = $20 ea.
3+ = $18 ea.
NOTE: Specific color of yarn color will vary. Color pictured is the specific yarn that is used in the item listed but order and specifics of gradating colors may be different than pictued.

Proudly hand made in Minneapolis, Minnesota.

Save this product for later
Nothing like best socks ever from a small company steeped in tradition.  
This is my third year of ordering socks as holiday gifts for my family.  They would be disappointed if they got none to go with the ones they still use.  Please keep up the great work.  I'm so grateful that I learned about your wonderful little business by reading someone's T shirt at a family camp.  Nothing like best socks ever from a small company steeped in tradition.  Thanks.… Read more "Nothing like best socks ever from a small company steeped in tradition.  "
Peter