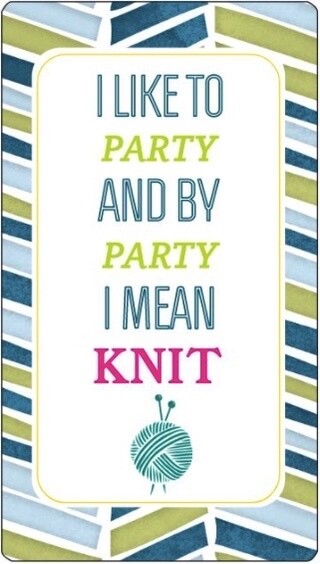 Knitter's Toolkit - And by Party I Mean Knit
42008
Product Details
Metal utility box for knitters, crocheters and other fiber artists. Features cover graphic with the message, "I like to party and by party I mean knit."
We've tested this selection of tools and notions in the real world with real knitters & crocheters and this is the best variation yet!
Perfect gift for the knitter who has everything (including yourself!).
Toolkit contains:
Retractable tape measure (color may vary)
Utility scissors or snips (color may vary)
Row counter
2 Yarn needles
Latch hook tool for picking up dropped stitches
Selection of stitch markers: 2 small soft rings, 2 medium soft rings, 2 extra large soft rings, 4 locking stitch markers
3 Large coilless safety pins
Shawl pin/stitch holder
10 colored flags for tracking pattern progress
Inside cover includes instructions for the Kitchener stitch.
Inside bottom is lined with thick material to cushion and reduce noise.
Outer metal box measures 3.5" x 3.5".

Room enough for adding your favorite tools, trinkets, and notions.
Assembled for fiber artist of all types in "The North" - Minneapolis, Minnesota.
Save this product for later
Beyond expectations
The washcloth is so very soft to the touch. Fun colors. Beautifully hand crafted. Love it! Efficient, quick delivery. Great website. Easy to order.
Judy
Fun project
Love this so much! Easy to follow directions. The lantern is adorable with so many possible variations!!
Jane
Sock maven
I bought last year and so glad I was able to reconnect. I passed info to friend who is looking at stocking all on her list for Christmas. I will be ordering more. Thank you so much!
Kathi
Awesome pattern!
Well written with a lot of detail! Can't wait to make the hanging lamp. Thank you for sharing your talents.
Dorinda
Very pleased.
Very pleased. Will order more!
Kathy
I give you 5 stars – or more.
I received my order so quick.  I am pleased with my socks.  I love them.  I am still wearing the 2 pair from last year as well. Thank you again.
Mary
Always happy with your beautiful socks!
Always happy with your beautiful socks! And thoughtful packaging. And our granddaughter just loved the pin you sent – so sweet!
Janice
Nothing like best socks ever from a small company steeped in tradition.  
This is my third year of ordering socks as holiday gifts for my family.  They would be disappointed if they got none to go with the ones they still use.  Please keep up the great work.  I'm so grateful that I learned about your wonderful little business by reading someone's T shirt at a family camp.  Nothing like best socks ever from a small company steeped in tradition.  Thanks.  
Peter
My mom loves the dish clothes!
Hello, I am so glad you reached out to me. My mom loves the dish clothes! Thank you for including an extra one. 🙂
Lora
Handmade and literally perfect
#sundaysocks brought to you by @nokoknitco. Handmade and literally perfect, they'll even send you a kind note with your order. 🧶 (Hi, Jen & Rich! The dryer balls are doing the job, there's no going back. Thank you!!)
Alli
ABSOLUTELY AWESOME!!!!
I just purchased an additional 4 pairs (in addition to the 6 I've already got). The colors, the craftsmanship, the customer service is beyond what I've ever experienced before. To be brief – I LOVE THEM: comfort, warmth, washability – all top-notch. And if you haven't purchased the dryer balls with the various scents – please do yourself a favor and add that to your sock order. I can't recommend it highly enough!!! You won't be sorry!!! Thank you!!!!!
Ed
Wow! I just received a
Wow! I just received a pair of these custom-made socks. What a treat. They came in just my size, the yarn is beautiful and they are so warm. They are nice, non-itchy and warm socks that fit comfortably in shoes or boots. Pick up a couple pairs, they make a great gift.
Carrie
I'm obsessed!
It never occurred to me to buy custom socks, but this has become one of my favorite luxuries. The fun part was picking out yarn from your website. The socks are made to size, so they fit perfectly. They look amazing and are so comfortable. These are quality, long-lasting socks. I have a pair from last year that look as good as the ones I just bought. Who knew socks could bring so much joy? Thanks- I'll be getting more!
Katie
I love the dryer balls
I love the dryer balls, and was so thrilled that they were hand delivered to my door (I ordered them at the MN Women's Virtual Art Fair). Great service! Thank you, thank you!
Ann
LOVE LOVE LOVE THEM!!
Received these cozy socks for Christmas—LOVE LOVE LOVE THEM!! ❤️🥰👍🏼🧦
Nichole
Jen is great
I purchased a custom glove order for my daughter which are perfect. I also found a darling felted picture at the Bachmans Winter Mart. I highly recommend her!
Cynthia
First pair!
Husband bought for me at Kingfield farmers market today. I Like' em!!!!
Jane