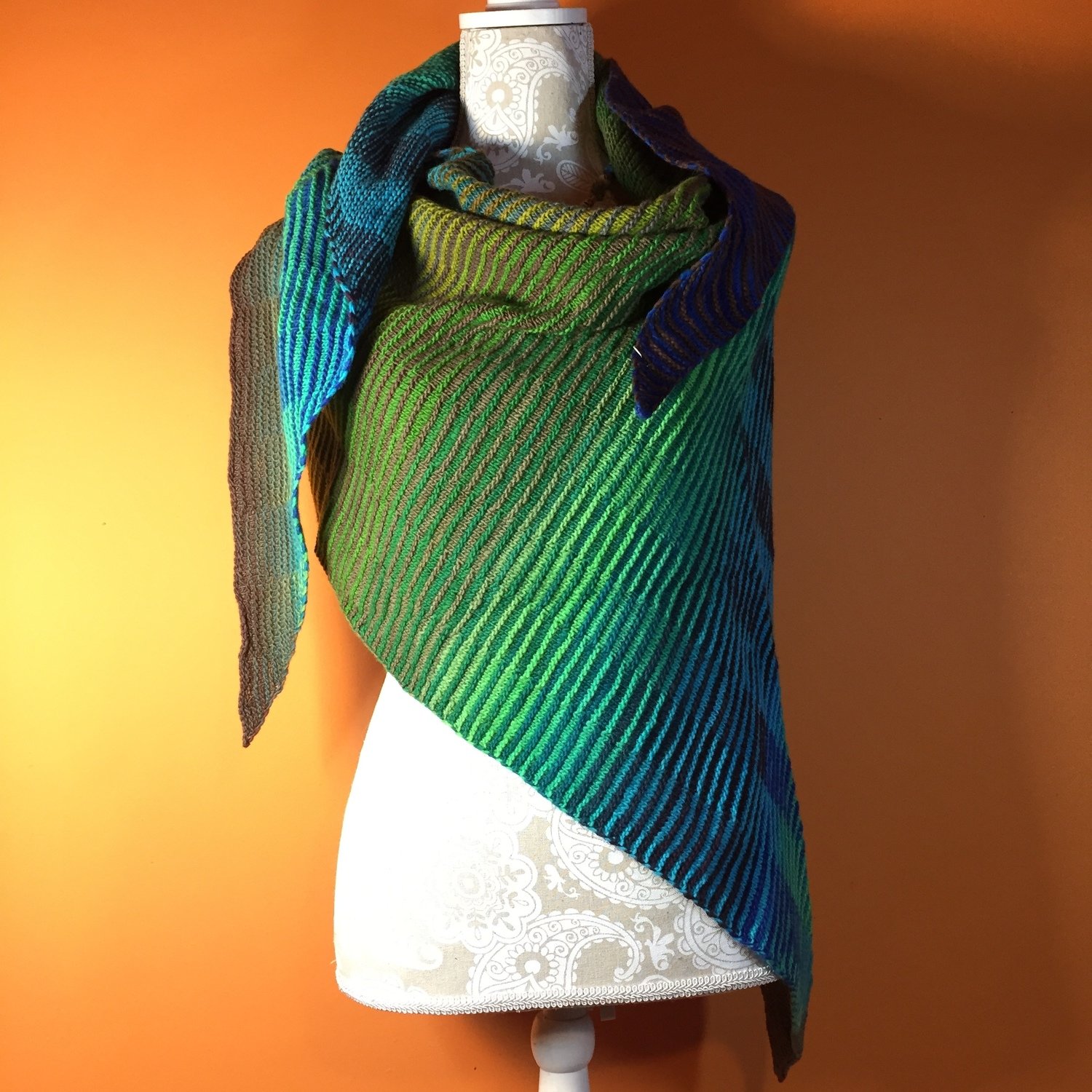 Illusion Shawl
SKU 00217
Product Details
Illusion Shawl / Colorful Stripes in Blue, Green, Gold, Brown / Hand Knit Shawl / Superwash Merino / Neck Warmer / Spring

Luxurious large illusion shawl wrap hand knit with premium 100% superwash merino yarns.
Lovely defined stripes that appear to change color depending on the angle of view. Large biased triangular shape cozily hugs your arms and shoulders when worn as a shawl or naturally cozies up if wrapped around as a bulky neck warmer.

Made with fingering or sock weight yarn to be just the right accessory for cool evenings without the weight of a coat or jacket.

Approximate Measurements:
39" From top edge to bottom point
94" Across top edge

Materials & Care
100% Premium superwash merino

Hand wash cool, lay flat to dry

We can make custom shawls with your color and size requests, just message us the details and we'd love to make one for you.

Proudly handmade in Minneapolis, Minnesota.
Save this product for later
I'm obsessed!
It never occurred to me to buy custom socks, but this has become one of my favorite luxuries. The fun part was picking out yarn from your website. The socks are made to size, so they fit perfectly. They look amazing and are so comfortable. These are quality, long-lasting socks. I have a pair from last year that look as good as the ones I just bought. Who knew socks could bring so much joy? Thanks- I'll be getting more!
Katie
I love the dryer balls
I love the dryer balls, and was so thrilled that they were hand delivered to my door (I ordered them at the MN Women's Virtual Art Fair). Great service! Thank you, thank you!
Ann
LOVE LOVE LOVE THEM!!
Received these cozy socks for Christmas—LOVE LOVE LOVE THEM!! ❤️🥰👍🏼🧦
Nichole
Jen is great
I purchased a custom glove order for my daughter which are perfect. I also found a darling felted picture at the Bachmans Winter Mart. I highly recommend her!
Cynthia
First pair!
Husband bought for me at Kingfield farmers market today. I Like' em!!!!
Jane