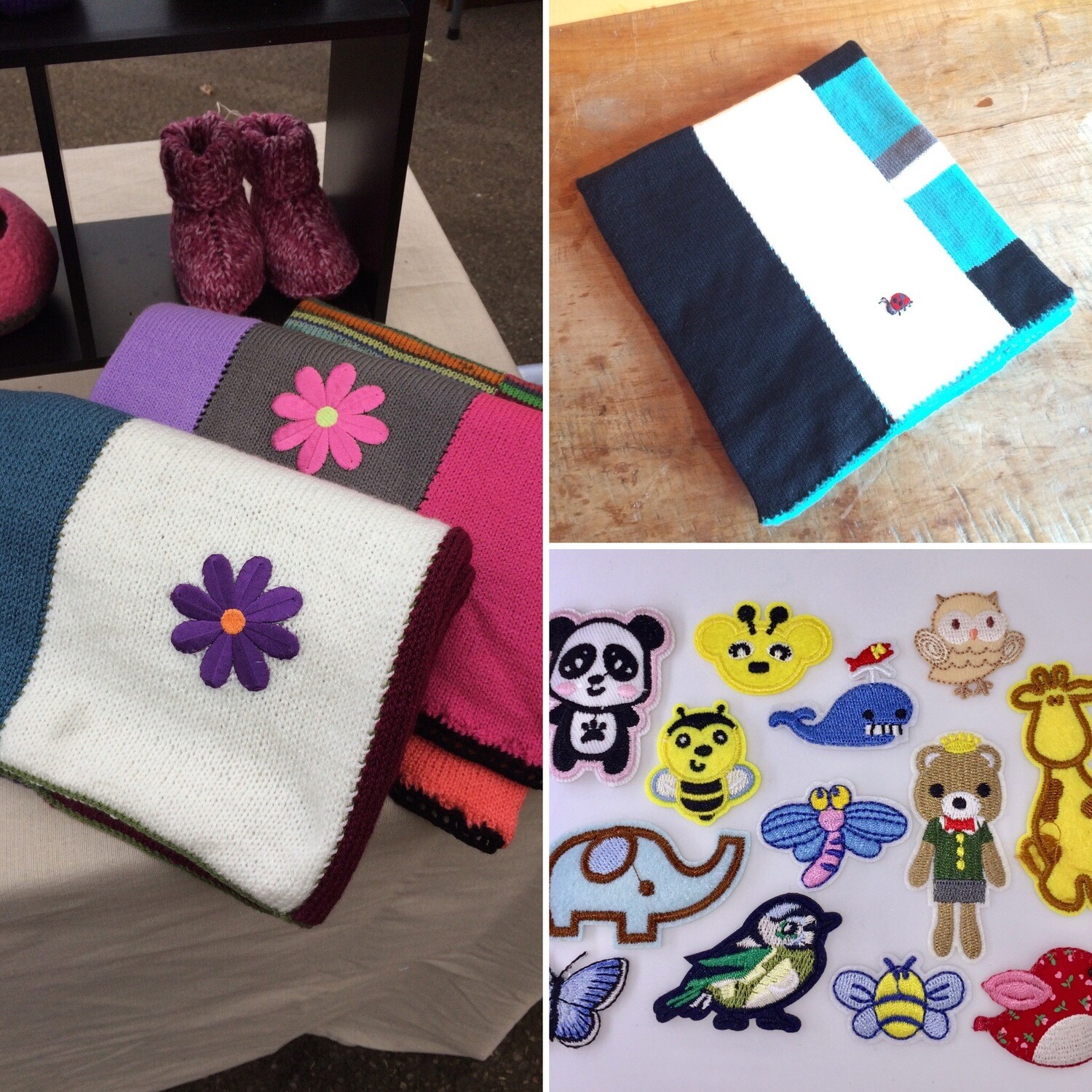 Custom Baby Blanket - Built Your Own Baby Gift
SKU 00090
Product Details
Custom Made to Order Blankets
Want to give that new little baby in your life something handmade just for them? Now you can with just the click of a few buttons.
You pick the colors, the stitching, and one of our optional embroidered patches and we will make it for you.
With 18 different colors to choose from, it is unlikely that two blankets will ever be the same. Select the striped panel as one of your color choices for a completely unique look.
Don't want to make all the choices? Use our Built to Order option and we will choose for you based on your preferences.
As a baby blanket:
For an alternative to the traditional baby blanket, this simple striped design could be a child's companion for many years. There are no buttons, or bobbles to fall off or accidentally get swallowed. The optional embroidered patch is both pressed and sewn on for a secure application. The size was specifically chosen to be easy to tuck in car seats without a lot of extra bulk.
As a lap blanket:
The perfect size to use at the office or on those chilly nights at home. Not bulky and easily stored in a small drawer or shelf.
Care:
Made of 100% micro-acrylic, this blanket is machine washable and dry-able and is super soft.
Approximate Measurements:
37" long x 37" wide
Please allow one week for custom orders to ship.
Proudly handmade in Minneapolis, Minnesota.
Non-Traditional Modern Baby Blanket - Lap Blanket - Handmade Baby Shower Gift - Made-to-Order - Custom Made - Custom Gift

Save this product for later
Handmade and literally perfect
#sundaysocks brought to you by @nokoknitco. Handmade and literally perfect, they'll even send you a kind note with your order. 🧶 (Hi, Jen & Rich! The dryer balls are doing the job, there's no going back. Thank you!!)
Alli
ABSOLUTELY AWESOME!!!!
I just purchased an additional 4 pairs (in addition to the 6 I've already got). The colors, the craftsmanship, the customer service is beyond what I've ever experienced before. To be brief – I LOVE THEM: comfort, warmth, washability – all top-notch. And if you haven't purchased the dryer balls with the various scents – please do yourself a favor and add that to your sock order. I can't recommend it highly enough!!! You won't be sorry!!! Thank you!!!!!
Ed
Wow! I just received a
Wow! I just received a pair of these custom-made socks. What a treat. They came in just my size, the yarn is beautiful and they are so warm. They are nice, non-itchy and warm socks that fit comfortably in shoes or boots. Pick up a couple pairs, they make a great gift.
Carrie
I'm obsessed!
It never occurred to me to buy custom socks, but this has become one of my favorite luxuries. The fun part was picking out yarn from your website. The socks are made to size, so they fit perfectly. They look amazing and are so comfortable. These are quality, long-lasting socks. I have a pair from last year that look as good as the ones I just bought. Who knew socks could bring so much joy? Thanks- I'll be getting more!
Katie
I love the dryer balls
I love the dryer balls, and was so thrilled that they were hand delivered to my door (I ordered them at the MN Women's Virtual Art Fair). Great service! Thank you, thank you!
Ann
LOVE LOVE LOVE THEM!!
Received these cozy socks for Christmas—LOVE LOVE LOVE THEM!! ❤️🥰👍🏼🧦
Nichole
Jen is great
I purchased a custom glove order for my daughter which are perfect. I also found a darling felted picture at the Bachmans Winter Mart. I highly recommend her!
Cynthia
First pair!
Husband bought for me at Kingfield farmers market today. I Like' em!!!!
Jane